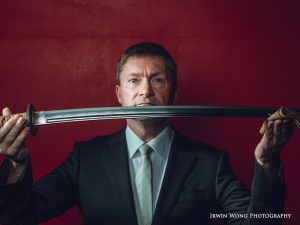 Nationality: British
Time Living in Japan: 12 years
Employer: Self-Employed
Current Job Title: Japanese Sword Specialist
Areas of Expertise: Japanese sword history and culture, Samurai culture and history, Japanese Mythology, The Imperial Regalia, Archaic Japanese Iron and Steel Manufacture (Tatara), Japanese sword martial arts, Shinto and Esoteric Buddhism, and general Japanese culture.
Education: MA UC Berkeley
Favorite Things About Living in Japan: I get to do what I love as my career.
Favorite Places to Visit in Japan: Emperor Gotoba's gravesite, Okinoshima (Shimane prefecture), and to watch Iwami Kagura at the Tatsunogozen Shrine at Yunotsu (Shimane prefecture).
BIO:  Paul Martin is from England and resides in Tokyo. A former curator at the British Museum, he is currently a Trustee of the Foundation for Japanese Sword Culture for the Purpose of Public Interest, as well as a recognized specialist for the Ministry of Land, Infrastructure, and Transport, and has his own column with Sankei Shinbun's JAPAN-Forward.
In 2006, he became the first non-Japanese to win the sword appraisal competition at the Japanese sword museum. He went on to win a second time in 2018.
Paul has appeared in many documentaries all around the world, translated several major sword books and exhibition catalogs and is quoted by the Osafune Sword Museum as being, "One of the foremost non-Japanese specialists on Nihonto".
A former three-time English Karate Champion, Paul practices martial arts in Japan and holds high ranks in both Kendo and Iaido.
Links:
www.thejapanesesword.com
The Japanese Sword on Facebook
Paul Martin on Japan Forward
Published Work:
Translations
Ono Yoshimitsu's World of Juka-Choji, Hayashibara Museum, 2006
The Facts and Fundamentals of Japanese Swords, Kodansha USA, 2010
Nihon no Bi: Nihonto, Gakken plus, 2016
Swords of Japan, Tokyo Bijutsu, 2016.
Pinnacle of Elegance-Sword Fittings of the Mitsumura Collection, Nezu Museum, 2017
Kyo no Katana, Kyoto National Museum 2018
Samonji Masterpieces, The Japanese Sword Museum, 2019
DVDs
Art of the Japanese Sword, Empty Mind Films, 2010.
Forgive -Don't Forget, Gravitas, 2018."