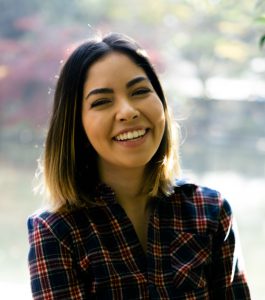 Nationality: USA-Japan
Time Living in Japan: 13 years
Employer: Self-Employed 
Current Job Title: Writer, PR, Community Organizer
Areas of Expertise: Travel writing, Public Relations, Writing and Editing, Content Creation and Cross-Cultural Competency
Education: B.A. from Seattle University in Strategic Communications and Creative Writing, JMEC 24 (Tokyo)
Favorite Things About Living in Japan: The thriving global community and the opportunity to constantly challenge myself to try new things thanks to the endless possibilities. DJing, playing in a band, being an active member in various professional and social communities.
Favorite Place to Visit in Japan: Nozawaonsen and Myoko for snowboarding, exploring local cuisine and onsen in various regions, hanging out with locals in small-town mom and pop shops.
BIO: Nina Cataldo is a bilingual, bi-cultural Japanese-American working as a writer and in public relations. Born in Tokyo to a Japanese mother and an American father, Nina grew up in the Pacific Northwest U.S.A. (Portland, OR and Seattle, WA). Throughout childhood, she was exposed to various foreign cultures through her family's love for travel and exploration. At the same time, she maintained strong ties to her Japanese roots and grew up with love and appreciation for Japan's unique customs and culture.
Upon graduating from Seattle University in 2015, Nina returned to Japan to work as a writer. Her passion is connecting Japan with the world and Nina's deep understanding of Japan combined with her overseas upbringing allows her to share this country's beauty with the world in authentic, yet, relatable ways. To date, Nina has visited more than 30 prefectures as a writer and tourism consultant. In the past, she has worked with JNTO, JTB, and various prefectural governments by utilizing her bi-cultural background as a strong-suit to bring the East and the West together in harmonious ways. In 2019, Nina also circled the globe on the Japanese NPO ship, Peace Boat, for four months as an English-Japanese interpreter aiding in onboard lectures and events, and tours on land at the 23 different countries the ship visited.
Nina is passionate about cross-cultural communication and an advocate for diversity and inclusion. She is the founder of Hafu Ladies, a community for mixed-race Japanese women all over the world. Nina also facilitates workshops and lectures regarding D&I topics in various Japanese communities.
Social Media Links: