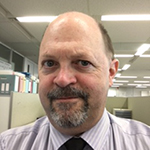 Nationality: American
Time Living in Japan: More than 20 years
Current Job Title: IT and Financial Consultant
Area(s) of Expertise: IT (Networking, Security, Databases), Finance (Foreign Exchange)
Education: BA, University of Oklahoma
Favorite Thing About Living in Japan: Every day is a new challenge and you learn something new.
Favorite Place to Visit in Japan: Hakone (Kanagawa), Kobe (Hyogo)
BIO: John came here as a student back in 1988-1989 and stayed on since. Originally from the US, but with more than half his life here, he'll probably stay on forever. His first residence in Japan was Kyoto, then he moved to Kobe. After the Kobe earthquake of 1995, he moved up to Kanto and presently resides in Yokohama.
Recently Published Work