Exciting exhibition to start 10/23 at Pacifico Yokohama
See the most recent press release here
Exhibitors big and small are preparing for the defining Asia Smart City conference this week in Yokohama, Japan. We can expect a lively showing from various companies and a host of new technologies and techniques to keep us very busy the duration of the exhibition.:
Energy Exchange
Alfa Laval will be showcasing their patented "Plate heat Exchange" system already in use in Stockholm, Sweden at the Stockholm-Arlanda airport. This system uses thermal energy to both heat snow covered runways, as well as provide air-cooling during the hot summer season.
Automation
Inea, a Slovenia based company will be showcasing their technology for automating factory processes into a simple and efficient automated plant system. This system will imprve on computer operated plant processes with simpler programming and greater flexibility, which Inea claims will provide for uninterrupted automation.
On-site Demonstrations "Technology Demo Zone"
In addition to the variety of exhibitors, there will be specific themes demonstrations showcasing some of the more interesting elements of the convention.
"The next generation of mobility"
Car models in Japan both electric and otherwise have been getting smaller and smaller, while retaining all the necessary functions of a vehicle. And in the urban environments growing ever denser, size is the one thing which can be easily forgotten in the world of automobiles. Attendees will have the chance to test drive the next generation models of smart cars.
RoboticsNew robotic designs and their implementations will be featured prominently at the exhibition.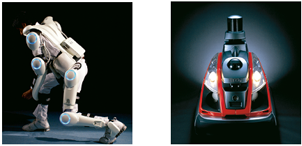 HAL, developed by Cyberdyne, is a robotics assisted suit which gives new independent potential to Japan's aging population with increased strength and motor functions. This suit will be available for demonstration and you too can see how HAL will "redefine the relationship of robots and humans"
Semcom Robot X stands as a representative of the innovation in city security via robotic surveillance.
Networking, education, and entertainment are what we can expect from the exhibition. This year is the third annual event, and we are expecting some impressive momentum the industry has gained just in the past year. 30,000 guests are predicted in total, and we hope to see you there.
See a full list of the exhibitors here