Yosuke Mochizuki, the man of action behind the convention, gave us insightful closing words
Mr. mochizuki's closing presentation to a successful week of exhibitions and conferences gave a detailed synopsis of the progression of Smart City Week from its first installment in 2011.
Steering Committee 2011
The "Smart City Declaration" was the theme of the 2011 convention, establishing the mission of this burgeoning industry in Japan in five structural concepts:
1. Citizens and enterprises
2. Quality of life of citizens
3. Clear Vision
4. Always evolving
5. Japan's contribution to the world.
These concepts set the pace for the conventions to come, and the two subsequent events have been focused on action and implementation of new technology, as well as establishing streamlined business networking chances between municipalities, corporations, and investors. The progress has been quick, but it cannot come too quickly as the time for harnessing the boundless chances for business is now. The technology is present, and growing at a rapid rate, and it is the aim of Smart City Week to identify the uses and make it a functioning reality for our modern society.
Analogous to the expansion of market potential, Mr. Mochizuki illuminated the rapid expansion of smart city terminology just over the past two years. Our consideration of how to use modern, renewable, and clean technology has also broadened our thinking in terms of application and associated issues.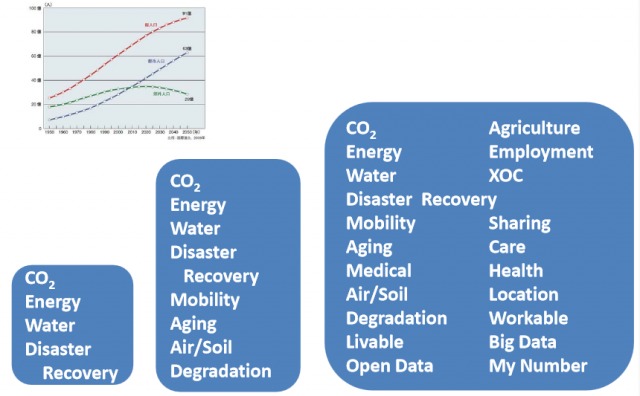 The large variety of meetings and conferences held each year since the inception of Smart City Week illuminate the diverse and ever-growing range of problems we need to address. Difference days of the event focusing on specific municipalities and countries demonstrate the local and international policies and technology  active in reshaping urban environments. From Spain Day to Yokohama Day, various approaches to making cities smarter are represented.
Members of the steering committee and municipal conferences had the following sort of statements to make in closing:
"What is most important is to provide services that citizens can be satisfied with"
Mr. McDonough, City Manager, Sandy Springs
"Politics and Government are the future creation industries"
Mr. Yokoo, Mayor of Taku City
As we move into the implementation stage of Smart City, the ideals laid forth int he previous conventions need to be actualized, and politics and government clearly need to take as active a role as possible in making the smart innovations being made across industries an accessible reality. The world understand that a harmony between industry and government can bring about the best change, and Smart City Week 2013 saw an impressive turnout of international representatives
All in all however, the conclusions reached by participants in the conferences and exhibitions point to the fact that individuals play the crucial role in pushing for policy change and implementation of new technology. Although this year was largely focused on moving toward the stage of implementation, it is still a valuable effort to educate and enlighten regarding the need to reform how we live our lives in urban society.