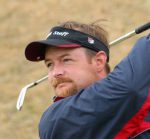 Nationality: Canadian
Time Living in Japan: 28 years
Languages: English/Japanese
Employer(s): Shizuoka Golf Course Association
Current Job Title: International Communications Director
Education: Associate of the Arts Diploma in Hotel and Restaurant Administration – Camosun College, Victoria B.C. Canada. Completion of the Cornell University (CRASE) program
Area(s) of Expertise: Helping Japan realize its potential for golf tourism and affecting change
Favorite Place to Visit in Japan & activity there: Golf in the Gotemba valley
BIO: Bennett J.Galloway a native of Victoria, British Columbia, Canada came to Japan originally through an exchange with APPI Kogen Resort in Iwate prefecture in 1992 through his career with Canadian Pacific Hotels and Resorts at their Banff Springs and Chateau Whistler Resort properties. Since then he has accumulated a wealth of experience and knowledge having worked at a total of eight clubs in seven different prefectures in Japan.
Bennett is a Golf-teaching Professional, Golf-writer and Golf-Tourism expert. He is also a sake lover and former Director of Golf for two clubs near the base of Mt. Fuji. He brings unique insight and 23+ years of hands-on management and knowledge of the Japan golf industry. "You are in good hands!"
Publications Featured In: As a member of the Golf Writers Association of America, he has written features for numerous media around the world including the USGA , the Globe Trekker – Pilot Film & Television Productions Ltd, ANA's in-flight magazine "Wing Span" and is a Columnist for the Golf in Japan site. He has also been " written about" by many local Japanese media and created and served as Chairman of the Golf Subcommittee for the American Chamber of Commerce Japan.
Recently Published Work Author of the "Adventure Golf" books Japan chapter that followed up the television series, published by the Globe Pequot Press, Guilford Connecticut.
Links:
Founder and creator of the below sites focusing on the Mt. Fuji areas golf
www.golf-shizuoka.com
www.golf-hakone.com
www.fuji-fun.com
www.juniorgolfjapan.com