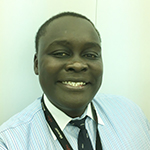 Nationality: Kenyan
Time Living in Japan: More than 10 years
Employer(s): Fujitsu Limited
Current Job Title: IT Outsourcing Global Services Architect
Area(s) of Expertise: Cloud services, IT Outsourcing, Offshore BPO, Global IT Service Strategy
Education: Masters in Materials Engineering
Favorite Thing About Living in Japan: The four seasons each bring a wonderful change to life in Japan.
Favorite Place to Visit in Japan: Kamakura
BIO: Eric studied in Japan (Hokkaido) and is working in Tokyo. He loves the outdoors.
Recently Published Work