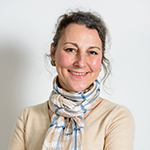 Nationality: Belgian
Time Living in Japan: More than 20 years
Employer(s): Wallonia Export and Investment Agency
Current Job Title: Representative for Japan
Area(s) of Expertise: Business
Education: M.A., University of Geneva; Currently Doctoral Studies at the University of Liège
Favorite Thing About Living in Japan: People are courteous and polite. Cities are clean and secure. A place where you can develop your potential.
Favorite Place to Visit in Japan: Kyoto
BIO: Claire's professional life consists of bridging Belgian and Japanese business communities. She dedicates her studies to developing practices of Japanese business spirit in Belgium.
Recently Published Work